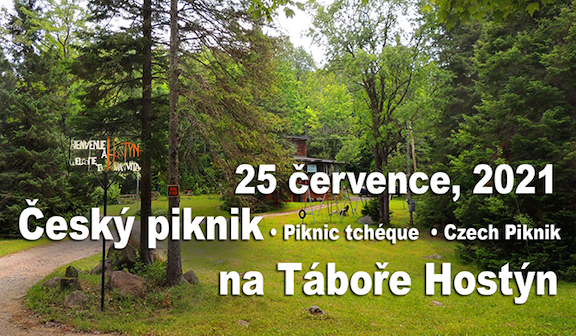 CZECH PICNIC
We invite you to Camp Hostýn on Sunday July 25th to come join us for our annual CZECH PICNIC.
Join us for a good time in the beautiful natural setting of Camp Hostyn.
Our goal is to offer the following menu items:
Guláš (czech stew), knedlíky (czech dumplings), czech dessert, coffee - 15$ (20$ with beer)
(maybe also european sausage with bread - 5$ (10$ with beer))
The main dish will be served from 12:00pm to 3pm.
Non Czechs who are curious about Czech culture are also welcome.
For more information call us at: 450 222-2006.
PHOTOS OF CAMP AND OF PREVIOUS PICNICs:
https://photos.app.goo.gl/PYEnCbWW7sv8H7yR6
DIRECTIONS
https://drive.google.com/drive/folders/1wVtudtqajrUe9aDDbBMwNRXp8exzrVok?usp=sharing
-------------------------
Cabin Reservations
Camp Hostyn now has a new email and a new cell phone dedicated to cabin reservations. To amke future reservations please conatct us here:
reservations tel: 438 389-8522
reservations email: This email address is being protected from spambots. You need JavaScript enabled to view it.
notes:
1- The site is closed to the public from July 2nd to July 25th for Kids camp
2- Here is a link to other weekends in 2021 when the whole site (or half the site) is booked for special events: https://docs.google.com/document/d/1_A97mnzEOWI2ZCGtqQp4WQdakHSZI23co7i1h52HDmQ/edit?usp=sharing
Kids Camp
Kids Camp is well underway as we speak. The camp is going well with a record number of children signed up this year. More news about the kids Camp will be available once the big rush has ended.
Kitchen renovations
As planned, the main kitchen renovations took place last spring and early summer. The kitchen was made functional for the kids Camp which started on July 4th.
Final finishing work on the kitchen will be done when the peak rental season is over.
Details

Hits: 1789
2017 Photo Gallery - part 2
July 4, 2017. The photos were supplied by our counsellor Hana.
Details

Hits: 12114
2015 Photo Gallery - part 4
Details

Hits: 11793
2017 Photo Gallery - part 1
Photos from July 3, 2017. The photos were supplied by our counsellor Hana.
gallery}2017-1{/gallery}
Free Lightbox Gallery
Details

Hits: 12212
2015 Photo Gallery - part 3
Details

Hits: 12405